During my six months of silence  I was a little productive and found some free time to complete some projects that were swirling around in my head.  It was good for me to find bits of time and work on something that made me feel good.  I read blogs a lot, they kept my head out of my doldrums and I found inspiration; I had a few favorites, mostly decorating posts but I really enjoyed reading how others had turned old forgotten items into new. I just couldn't believe that some of the old decrepid items could be turned into something so beautiful. How the person saw past the uuugly just amazed me.
The story of how I revamped this old ugly jewelry armoire began at work.  They guys had cleaned out a garage full of old unwanted furniture and to be honest it was really a bunch of junk!  Much of it broken and damaged and it went right into the dumpster. But there were a few items that I pulled aside for myself.  If you could have seen this when I brought it home you would have laughed, which is exactly what my hubby did!  He thought we (the middle child and I) were out of our mind.  The legs were broken and not on the piece and the base was separated from the drawers.  Actually my daughter thought it was a chest of drawers and that it might work in her room. So we unloaded it and a few other items out of my trunk with my hubby shaking his head the whole time and headed for the house.
 Much to my surprise when I arrived home from work the next day I found the hubby had caught the inspiration bug. He had put the whole thing back together.
He even had to cut a new piece of wood to attach the base to the body so that the doors would open correctly.
I was a little bummed as I didn't have a picture of the pieces that it came in but I think you can get the picture. It was bad…but thanks to Hubby…it was better, at least a little better.
That's when I got to work.  I cleaned it up, there was some uuucky substance all in the wood carving and that had to be scraped out and it needed to be washed.
It was a cheap wood but at least it was wood, right.  I was surprised at how much better it looked when it was washed down. Once it was evident that it wasn't a night stand chest of drawers my daughter decided it wouldn't work for her. Now it was heading for my bedroom, but that meant that I had to decide how and what to do with it.  I knew I was gong to paint it so I started sanding.  I used a de-glosser that the hubby had in the garage and sanded each area a little.
I must have changed my mind about 10 times and I think if I had asked the girls what I should do one more time, they would have poked my eyes out.  So I made a decision.  Silver! I hoped I liked it…and a couple of times during the process I wanted to change my mind. I'm so glad I stuck with it!
The whole process made me nervous.  I decided on spray paint for the project because I knew that the metallic silver was the look I was going for. I masked off the drawer fronts and inside of the cabinets on the side and went for it.  I would paint a little, and stand back to look, then paint a little more and go inside the house.  I just kept at it and eventually I felt like all the areas had a couple of coats of silver and then I made the decicion…it was done.
The next dilemma was the black glaze on the etching.  I liked the look but had never tried something like this.  It was a scary feeling…what if I didn't like it? What if I screwed it up? I'd have to start over!  Would I want to start over?  Ahh!  Stress! I went inside and forgot about it. At least until I walked through the garage again. You know, like every time that I drove somewhere, there it was…. What to do???  Finally, I took some advice from Nike. Just Do It! So I did it!  My advice to anyone considering glazing a piece of furniture…don't wait, just go for it. You will most likely love it when it's done!
I had the glaze on hand from painting a wall in the house.  I followed the recommended ratio on the glaze can, 4 parts glaze and 1 part paint.  I mixed up a little bit of black glaze and went for it! With glaze you just paint it on, right over everything, make sure you get it in the crevices, let it sit for a short time and wipe it off with a soft damp rag.  Helpful hint…make sure you rinse your rag often. 
It was such a relief when it was done.  I purchased some new crystal drawer pulls off of Ebay and of course…I had to wait for them! I took my time and was in no hurry to paint the piece and now that it was finished….I wanted my drawer pulls…now!
Now that it's sitting in my bedroom it's my favorite piece of furniture in there and I've found another thing that I like to do…I've got a couple of new pieces sitting in my garage waiting for some free time.
Linking up here: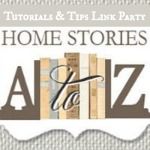 Nifty Thrifty Things, Whatever Goes Wednesday